Revisiting Proposal B
In the week that the Venice Architecture Biennale would have been opening, we take a look at Proposal B by Peter Salter and Fenella Collingridge which was displayed in the Arsenale in 2018.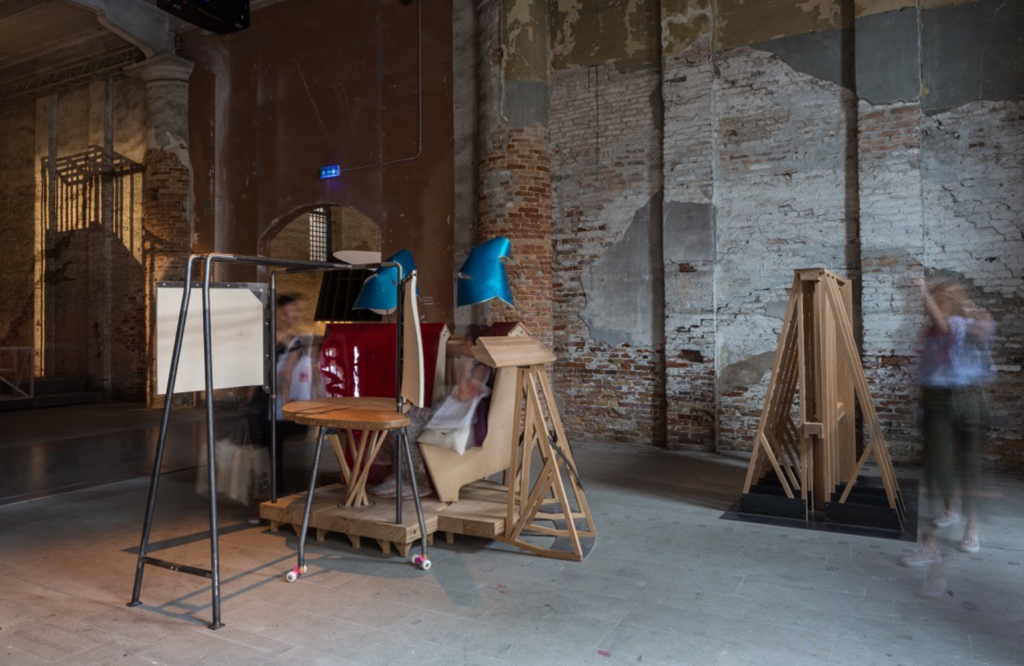 This intimate chair also speaks of a time post-pandemic when closeness was a possibility. It is designed with social interaction and courtship in mind.
The design takes form from a number of influences – the medieval 'poche' window seats of Stokesay Castle, a place from which to view the outside, away from the formalities of the aristocratic hearth, and the traditional kissing gate, which allows people, but not livestock to pass through.
Combining a table which moves on skateboard wheels, sliding lacquered chairs, felt blinkers and hoods, the moving parts encourage playfulness between two people.
As Peter Salter describes: 'It acts in a similar way to the sofa in a living room, a place in which to ponder, argue or make-up, a centre of family conversation in the home.'
'In Venice, the piece was always in use as a meeting place for people to celebrate a relationship, a place for selfies and smiles', he adds.
The piece plays upon the spatial condition, where furniture becomes architecture and the ways in which we can manipulate space and with it the intimacy of a situation. The chairs' occupiers can be brought together but also separated with a sweeping act of movement.
In Venice it challenged the normal social codes of conduct of an exhibition or gallery space, inviting you to touch, to sit, and to interact.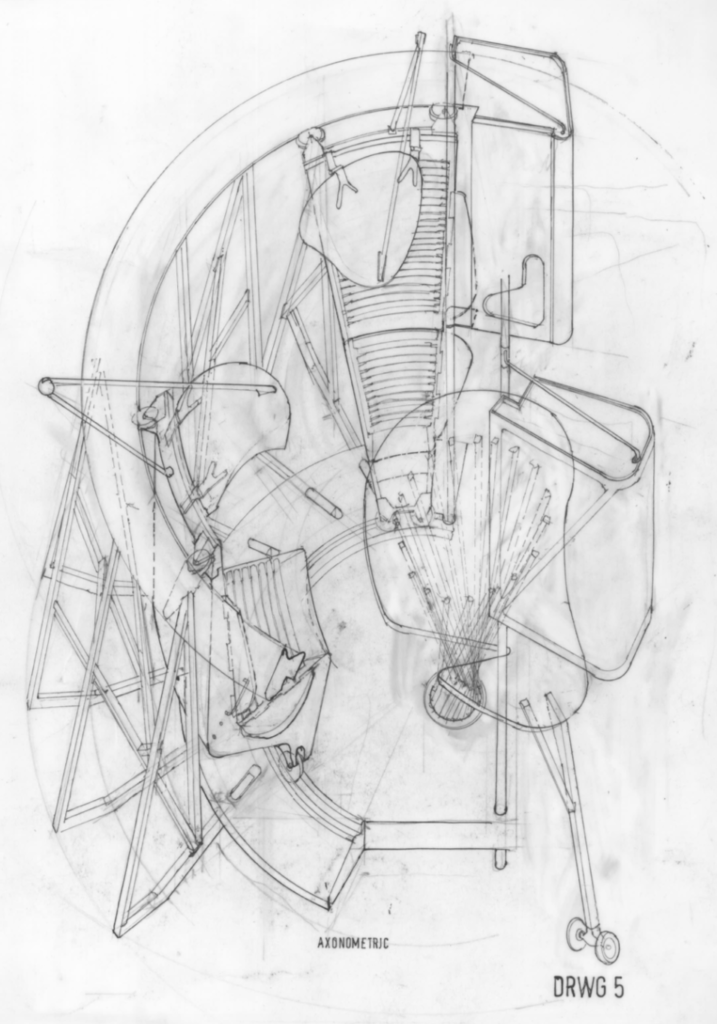 The curators of the 2018 Venice Architecture Biennale, Yvonne Farrell and Shelley McNamara of Grafton Architects, described it as 'bringing to mind works by Jean Prouve, Pierre Chareau and the inventions, machines and drawings of Leonardo da Vinci'.
From the 317m-long, 21m-wide 16th century assembly hall of the Biennale's Corderie to the 4m square space of House 2's Media Room, where it temporarily resides, the chair now sits in a different scale of place and the intimacy becomes even more apparent.
Proposal B is a place for gossip and for chat, for sneaking a quick kiss, for the rub of a shoulder as the chairs come together. In a time when closeness, touch and intimacy are so challenged, relooking at this piece becomes increasingly poignant.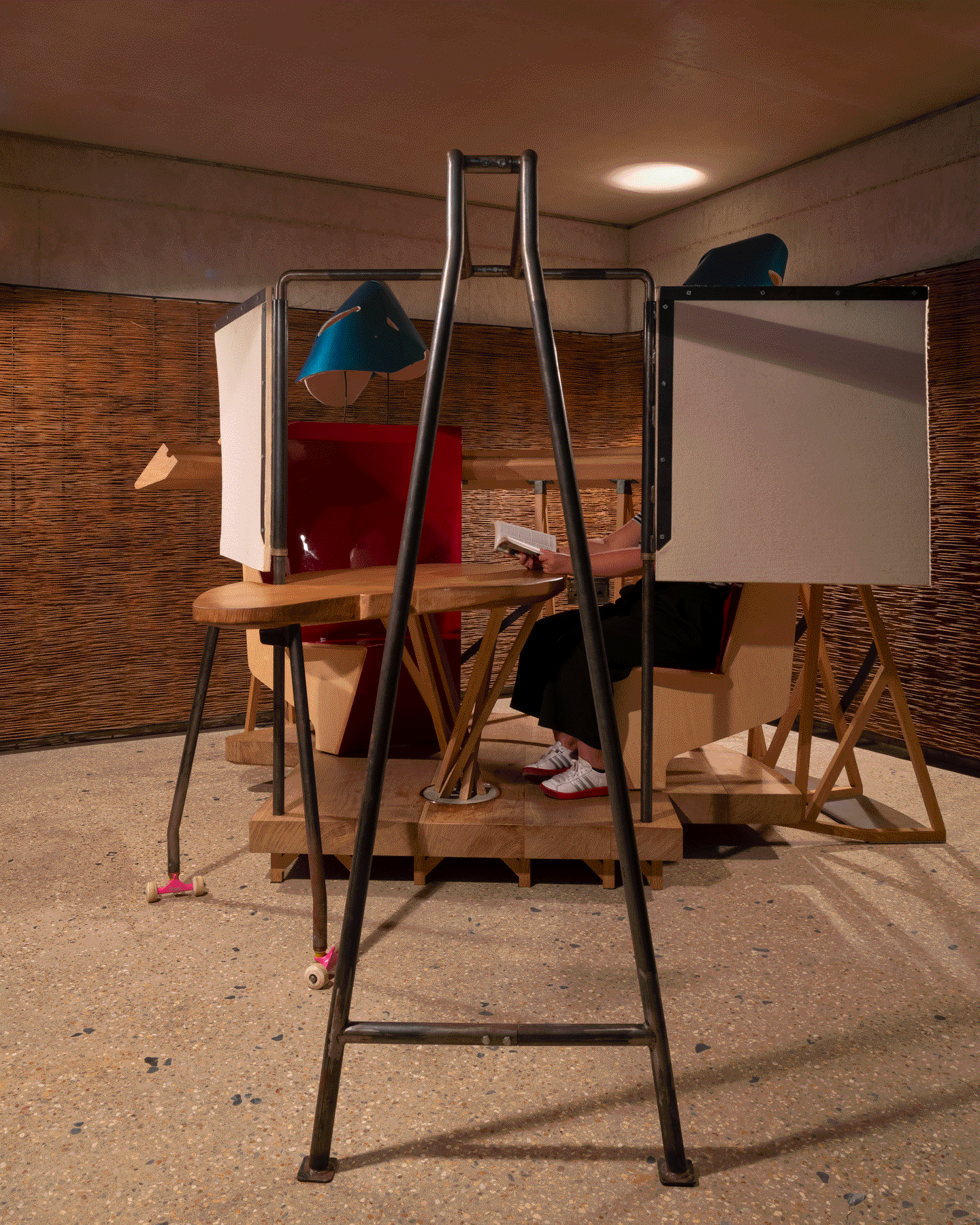 Credits
Design: Peter Salter and Fenella Collingridge
Construction: Daren Bye
Photography: Ste Murray and Jim Stephenson